6 of the Top Rated 4 Channel amplifiers | 2022 – 2023 Reviews by Customers at Down4sund.
Here is your Down4Sound REPORT OF THE TOP 6 Purchased & Rated by Customers 4 Channel amplifier for car.
This 4 Channel car amplifier REPORT is based on the 2022 – 2023 sales and reviews of TOP-rated 4-channel car amplifiers that customers purchased and installed 4-channel amplifiers to be a part of their car stereo systems.
These top-rated four-channel amp reviews will be scaled worldwide sales here at down 4 sound, your #1 source for car audio, where car audio isn't just working, and we sell 4 ch amps with power rating and something to run your front and rear speakers; it's our life and hobby!
Current Pricing can be seen on your shop site by clicking the title & features will be listed underneath the 4 channel amplifier for car of the top-rated 4channel amplifiers will be summarized. May the Best 4 channel amp win for all head unit and lineouts alike. All these 4 channel amps are good quality amplifier (s), and delivering great sound is why we sell them.
They are in their own each way the best 4 channel amp one could ask for. All features speaker level inputs, variable gain control, and some even have a variable bass boost.
TOP 4 Channel car amplifiers:
Sundown Audio Salt 4 channel Amplifier – Sound quality 8/10
Features

Full Range Digital 4 Channel Amplifier
Double Sided Through Hole Epoxy PCB
Multi-Way Protection Circuitry ( Thermal / Voltage / Speaker Short / DC Offset )
Voltage, Temperature, and Clipping Display Wired Remote Control (Optional / Not Included with Multi-Channels)
Clipping indicator on amplifier side-panel
Optimized for standard 12v charging systems (Low Voltage Technology)
Voted Best 4 channel amp in 2020
Specifications

Input Sensitivity: 6V – 0.2V
700 x 2 @ 4 ohms RMS
325 x 4 @ 2 ohms RMS
200 x 4 @ 4 ohms RMS
2 OHM Stereo Stable / 4 OHM Bridged Stable
Variable Subsonic Crossover Filter : 10HZ – 500HZ
Variable High Pass Filter : 50HZ – 500HZ ( 500HZ – 5KHZ at x10 )
Variable Low Pass : 50HZ – 500HZ ( 500Hz – 5KHZ at x10 )
X1, X10 Crossover Multiply
Efficiency: 75% 4OHM, at 100HZ
Signal / N Ratio : 105DB <
Damping Factor : 400 <
Frequency Response : 10 Hz – 25khz
12DB/ OCT Variable Crossover Slope (HPF/LPF)
12DB/ OCT Variable Subsonic Crossover Slope
Tested Voltage & THD : 12.8V & Less Than 1% THD
Operation Voltage : DC 9V – 15.5V Power Input
Recommended Fuse : 120 Amps
Dimensions : 11.82" L x 6.85" W x 2.66" H
Sundown audio infamous Salt series gives you all the same power output you could ever imagine at 12v. The look and feel of this amplifier match the rest of the Sundown Audio Salt Series Amplifiers.
Most car stereos' sound quality depends on what drivers are being used and how many multiple speakers are installed. Power at 12 volts with power ratings met, at 12.8v, you can save that higher voltage signal for the rest of your car audio system. Most daily driven vehicles rely on coaxial door speakers. Good sound quality, power efficiency, and loud sound all play critical roles in achieving excellent sound quality. Matching these with any of Sundown Audio Speakers with this powerful amp will have your speakers sound and achieve that sundown audio satisfaction of RMS power ratings.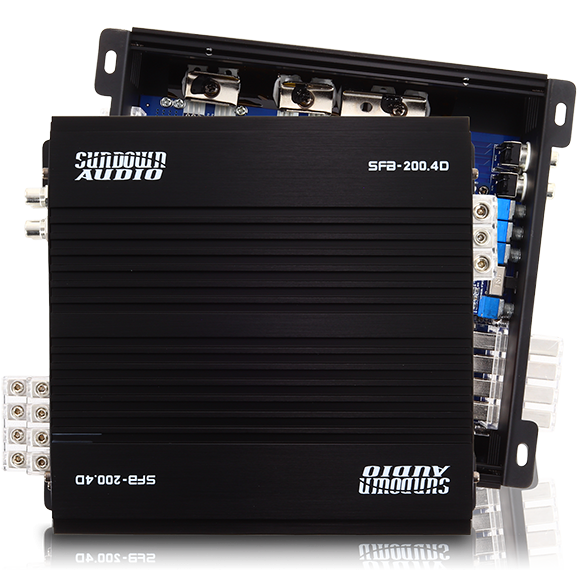 Sundown Audio SFB Amplifiers SFB200.4D – 4 channel amp / Sound Quality 7/10
Features

High-Efficiency Digital Multi-Channel Design
12 dB/Octave – Variable Low Pass
12 dB/Octave – Variable High Pass Filter
Variable Bass Boost
Clipping Indicator
MOSFET power supply
4 Way Protection Ciruit (Thermal, Voltage, Speaker Short, DC Offset)
Optional Wired Remote Control with Clipping Indicator
Specifications

1 ohm RMS 200W / CH
2 ohm RMS 125W / CH
4 ohm RMS 75W / CH
Recommended Fuse Rating 80A
Low Pass crossovers (Variable) 50Hz-6kHz
High Pass Filter (Variable) 15Hz-6kHz
Bass Boost @ 50Hz 0-12dB
Input Sensitivity 5V Max
S/N Ratio 100dB
Working Voltage 10.5v-15.5v
Dimensions 7.25″ x 8.50″ x 2.50″
The SFB amplifier is Sundown's Budget Power lineup; power output meets the car stereo system on a budget. This car amplifier has way more than enough power for how much power you will ever need. You can even run more power and up to eight speakers with this class d amplifier. This amplifier is a Brazilian-style 4ch amp that does take a little know-how to tune this 4 channel for great sound, audio signal, and peak power output. Below is a video of Sundown Unofficial YT about the sfb 200.4. The SFB has will be replaced with the Sundown SIA Lineup which is going to have a 4 channel lineup .
Sundown Audio SFB-200.4 Amplifier Dyno Test ***Amp Test Tuesday***
#4 Deaf Bonce AAB 500.4 :
Class D
Mosfet power supply
Number of the channels" 4
Frequency response: 15 – 20000 Hz
1 Ohm RMS (14.4 V) : 500 W x 4
1 Ohm RMS (12 V) : 450 W x 4
2 Ohm RMS (14.4 V) : 320 W x 4
4 Ohm RMS (14.4 V) : 200 W x 4
2 Ohm RMS (Bridge) : 1000 W x 2
Minimum permissible load on the channel: 1 Ohm
Minimum permissible load in a bridge connection: 2 Ohm
Input SPL 0.5 – 8 V
Low pass : 50 – 6000 Hz
High pass filter: 15 – 6000 Hz
Crossover: 12 dB/Oct
Input terminal: 4 Ga
Output terminal: 8 Ga
Working voltage: 9 – 15 V
Signal-to-noise ratio: ≥ 105 dB
Size (W×L×H) : 9.84 × 9.72 × 2.89 inch
This 4 channel car amplifier is like the SFB 200.4, just with way more power output, the 500.4 by Deaf Bonce is one of the four channel amplifiers you run high output pro audio drivers. This amp packs enough power output to run an almost unlimited speaker system you can dream up. This amplifier has been discontinued by deaf bonce. So if you are one, know the peak power rating and then some on this 4 channel amp.
Down4Sound JP234 or 2000w 4 Channel Amplifier – Class D amp High Power output – Sound Quality 9/10

JP 234 – 4 Channel Amplifier Features:

FULL RANGE DIGITAL MULTI-CHANNEL AMPLIFIER
STABLE INTO 2OHM STEREO OR 4OHM BRIDGED
HIGH-SPEED MOSFET POWER SUPPLY
VARIABLE HIGH PASS FILTER
VARIABLE LOW PASS
CROSSOVER MULTIPLY X10
BANDPASS FILTER CAPABLE
Operating voltage: 9 to 16 Volts
CLASS: D
4 WAY PROTECTION CIRCUITS
Signal to Noise Ratio 95db <
Fuse Rating 120A
3rd Party Independent Testing Results: Big D Wiz with SMD Amplifier Dyno
4 ohms at 14.4v : 334W RMS – CERTIFIED
2 ohms at 14.4v : 425W RMS = CERTIFIED
BRIDGED AT 2 OHMS: 678w RMS – CERTIFIED
The great sound quality out of this 4 channel amp with high power output and superb sound quality is mind-blowing. This is a class d amp that redefines class d quality. Powering multiple speakers is a breeze with this amp. Clip light distortion detection is standard and monitors both the input, output and speaker level inputs and output. Crisp sound, variable gain control band passable x over for both low pass crossovers and high pass crossover within a switch. This 4 ch amp has sold several thousand at the time of this post and only 10 have ever come back.
Customers love the quality sound quality competes with the best 4 channel amplifier out there in the market and within class d amps. This 4 channel amp can be used in all in car applications for high powered speakers as well as your stand front and rear speakers setups. more power means more watts, which means we must add a 2nd battery if you don't have the electrical to run this MOSFET power supply class d amplifier monster. High power output should be handled with care and understanding. Sound Quality is there for this Car Amplifier.
Need a Powerful Four Channel Amp? Check Dis Down4Sound JP234 [4K]
Down4Sound JP 34AB – 590 WATT RMS Class AB 4 Channel Amplifier – Purple – Sound Quality 9/10

RMS , 2ohm : 200W x 4 RMS at 14.4V
RMS Power , 4ohms : 134W x 4 RMS at 14.4v
RMS power, 4ohms Bridged: 450W x 2 (manual has a typo)
Frequency Response: 10 Hz – 45KHz
High Pass Crossover Filter: 20Hz – 800Hz
High Pass Filter Multiply: x1 – x10 (200Hz -8KHz)
Low Pass crossover Filter: 50Hz – 800Hz
Low Pass Filter Multiply:x1, x10 ( 500Hz – 8KHz )
Input sensitivity: 6V – 0.2V
Signal to Noise Ratio: 100Db
T.H.D @ 4ohm: less than 0.1%
Fuse rating: 100A
CLASS a/b technology
Length (inches): 19.68″
Operating voltage: 9 to 16 Volts
Width x Height (inches): 7.4″ W x 2.24″ H
Retro Inspired Budget Beauty! Down4Sound JP34ab Amp Dyno Test and Review [4K]
Having Crystal clear sound without breaking the bank on a 4 channel amp is not only controllable within your sound system and is possible at down4sound. Most will argue that class ab amplifiers are the way to go; it's an old-school quality sound. This is our most affordable 4 channel amp with class ab technology within the Down4Sound lineup.
This 4-channel amplifier use clip indicator lights for distortion free sound and delivers great sound better than most 4 channel amps in its very affordable price range. How many speakers can you run on class ab? That is probably all; you must get the impedance and power output right. More speaker-level inputs mean more power will be needed. Your audio system when it comes to the pure control of car amplifiers and, more specifically, 4 channel car amplifiers that are class ab, this amp is all that you need within your car stereo system. Again Class ab is argued to be the best sound quality by most enthusiasts today . We made this class ab 4 channel car amplifier with good sound quality DNA and great hardware to keep the old-school argument live and well for sound quality and 4 channel car amplifier. More power and stronger than probably most out there today
Down4Sound JP84 or 400W 4 Channel Car Amplifier – Sound Quality 9/10

JP 84 – 4 Channel Amplifier Features:

FULL-RANGE DIGITAL MULTI-CHANNEL AMPLIFIER
STABLE INTO 2 OHM STEREO OR 4-OHM BRIDGED
HIGH-SPEED MOSFET POWER SUPPLY
VARIABLE HIGH PASS FILTER
VARIABLE LOW PASS FILTER
CROSSOVER MULTIPLY X10
BANDPASS FILTER CAPABLE
CLASS: D
4 WAY PROTECTION CIRCUITS

Independent 3rd Party Testing: Tested at 40 Hz PER Channel, the hardest test you can put on a 4-channel amplifier.

124 Watts Per Channel at 4 Ohms at 14.4V – CERTIFIED
163 Watts Per Channel at 2 Ohms at 14.4V – CERTIFIED

Our Ratings: (WHICH WE RATE FOR WORST CASE SCENARIO, THERE IS ALWAYS MORE)

RMS Power: 120W x 4 @ 14.4v – 2 ohms
RMS Power: 90W x 4 @ 14.4v – 4 ohms
BRIDGE POWER: Range 180 – 284w x 2

JP – 84 TUNING

Freq Response: 10Hz – 40KHz
High Pass Filter: 20Hz – 800Hz
High Pass Multipliers: 1x – x10 ( 200Hz – 8 kHz)
Low Pass Filter: 50 Hz – 800 Hz
Low Pass Multipliers : x1 – x10 ( 500Hz – 8kHz)
Signal to Noise Ratio:  95dB <
Fuse Rating: 60A
Operating voltage: 9 to 16 Volts

JP84 Inputs & Dimensions

4 GA input on Power Wire
8 GA input for Speaker Wire
7.87″ x 7.4″ W x 2.24″H
The most compact 4 channel car amplifier we have in the Down4Sound is the #1 selling 4 channel car amplifier on down4sound overall and class d amplifiers. Better sound quality starts with knowing what, then how much power, then executing an installation. This 4 channel amp powers full range speakers and coaxial and competes even with the best 4 channel amp out there. Being the most compact Class d amps in the Down4Sound 4 channel amp lineup. The Jp84 packs all the features like the JP84! Clip indicator lights, high-speed switching, and an overbuilt power supply. Bandpassable crossovers 8 ga speaker level inputs and 4 ga on the power end. The JP84 even has tiffany style RCA's making a good quality as a 4 channel car amplifier that much better and great! Power efficiency is in the video testing below. This is the 2022 going to the 2023 year best 4 channel amp.
D4S JP84 Four Channels of Beauty and the Beast
Finally thoughts on all these 4 channel amp (s)
All of these 4 channel amplifiers do more power than what is advertised, the speaker level inputs are solid and better than most of the four channel amp (s) out there. All these amps packs a ton of value. great sound quality to be on the best 4 channel amp list here at down4sound. You can see that these are the best Class d amps , class ab amps, high pass crossover, low pass crossovers, audio signal more than any planet audio realm in existence.