Sundown Sia 3500 vs. the Taramps Smart 3K comparison
This article is meant to educate you on the differences between the Sia 3500 D vs. the Taramps smart 3k. Before we start, I want to let everybody know that I am not siding on one or the other, just a general overview comparison. The Fullbridge market, in my opinion, is nothing more than a Cost-Effective Way to save money on power, and there isn't anything wrong with that at all.
What we know about the 2 amplifiers:
Each one is full-bridge technology, aka Brazilian.
One is made in china (sundown), one is made in Brazil (taramps)
Sundown SFB Amplifiers will phase out, and SIA Amplifiers will be the successor.
one comes with a bass knob (sundown) one comes with indicator gages (taramps)
Both have smart/intelligent technology designed into the amplifier.
Info about the Sia 3500:
Price $417.99
NUMBER OF CHANNELS

1 CH

MAX OUTPUT POWER

14.4VDC – 1 OHM

3500W RMS

MAX OUTPUT POWER

14.4VDC – 2 OHM

3000W RMS

MAX OUTPUT POWER

14.4VDC – 4 OHM

1750W RMS

INPUT SENSITIVITY

200MV

SIGNAL TO NOISE RATIO

108 DB

FREQUENCY RESPONSE

10HZ 20KHZ (-3DB)

HPF CROSSOVER

10 TO 1KHZ (-12DB/8) VARIABLE

LPF CROSSOVER

40HZ TO 20KHZ (-12DB/8) VARIABLE

BASS BOOST

0 TO 12DB (50HZ)

THERMAL MANAGEMENT

SMART COOLER ( FAN POWERED BY TEMPERATURE OR AUDIO, WITH 3 SPEEDS)

INPUT IMPEDANCE

56K OHMS

PROTECTION SYSTEM

OUTPUT SHORT / HIGH /LOW SUPPLY VOLTAGE / THERMAL PROTECTION

MINIMUM SUPPLY VOLTAGE

9VDC

MAXIMUM SUPPLY VOLTAGE

16VDC
Conclusion on specs with the Sundown SIA 3500 is that it does 1 and 2 ohms loads which is great for any 3000watt – 4000-watt subwoofer you may want to pair it with! Testing is at 14.4v, which honestly your voltage should be at.
Info About the Smart 3K :
Price: $299.99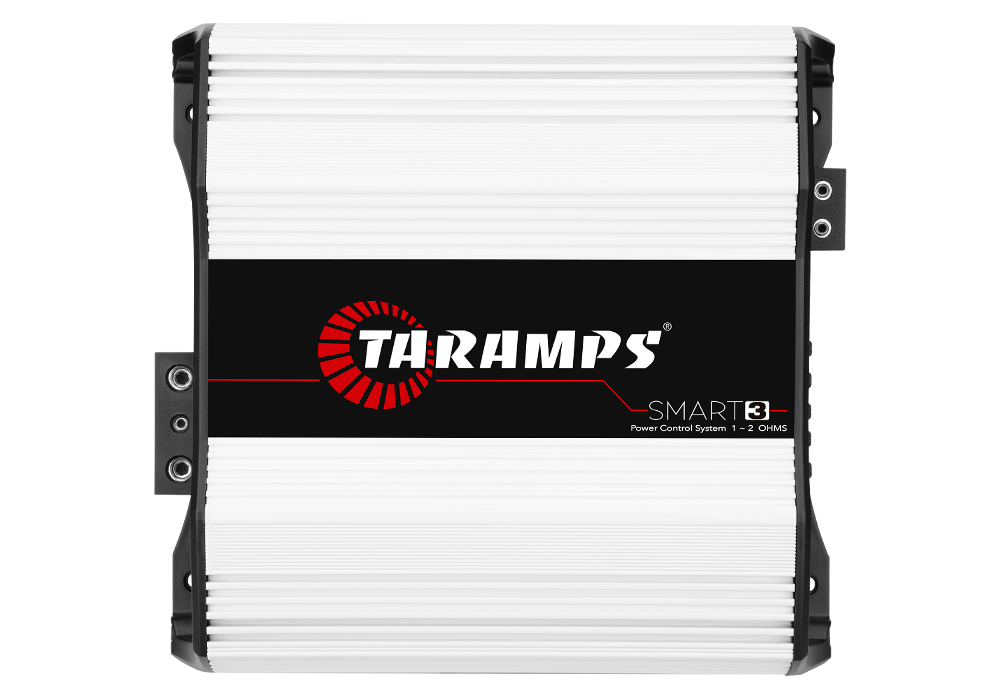 OPERATION CLASS
Class D
NUMBER OF CHANNELS
01
MAXIMUM POWER
@ 12.6 VDC – 1 Ohm: 3000 Watts RMS
@ 12.6 VDC – 2 Ohms: 3000 Watts RMS
@ 12.6 VDC – 4 Ohms: 2000 Watts RMS
INPUT SENSITIVITY
0.22V ~ 4V
SIGNAL TO NOISE RATIO
>90dB
FREQUENCY RESPONSE
10Hz ~ 10KHz (-3dB)
CROSSOVER HIGH PASS (HPF)
10Hz ~ 90Hz (-12dB/8ª) Variable
CROSSOVER LOW PASS (LPF)
90Hz ~ 10KHz (-12dB/8ª) Variable
BASS BOOST
Freq.: 35Hz ~ 55Hz
Boost: 0 ~ +10dB
EFFICIENCY
79%
INPUT IMPEDANCE
10K Ohms
OUTPUT IMPEDANCE
1 ~2 ohms
PROTECTION SYSTEM
Output short circuit
low/high voltage protection
thermal protection
MIN. SUPPLY VOLTAGE
9VDC
MAXIMUM POWER SUPPLY VOLTAGE
16VDC
CONSUMPTION AT REST
2.40A
MAXIMUM MUSIC CONSUMPTION
150A
MAXIMUM CONSUMPTION IN SINUSOIDAL SIGNAL
300A
DIMENSIONS (WXHXD)
8.98″ x 2.76″ x 9.37″ (228 x 70 x 238 mm)
WEIGHT
Conclusion on specs with the Taramps smart 3k, 3000 watts at 12.6v at 1 and 2 ohms is really low, like scary low.  The signal-to-noise ratio is lower than sundown's 108dB rating. On the bright side with the 12.6v ratings, This also means that they will probably do more power with better voltage. It is speculated that they are .5 ohm stable, but after talking with repair techs for taramps they really are not.
Reliability & Warranty
Sundown has shown its reliability over the years is amazing, and they stand fully behind their product.
Sundown Audio gives you a 2-year warranty, and if you are honest they will warranty your amplifier no questions really asked, do not run amp below 1 ohm.
Taramps warranties for 1 year, it's not too clear on the terms,  reliability isn't great just speaking from what I saw at my buddy's house who repaired amps for them for many years… but the amplifiers are getting better with time!
Conclusion:
If you have the money, get sundown SIA 3500, if you are on a budget get the smart 3k!
Sundown Audio SIA 3500 UNBOXING [NEW Intelligent AMPS]